- Digicel El Salvador is delighted to announce the improvement in their Paquete Chivo (Bundles) of USD$ 5, 7, 10, 15 and 20.
- See the benefits below: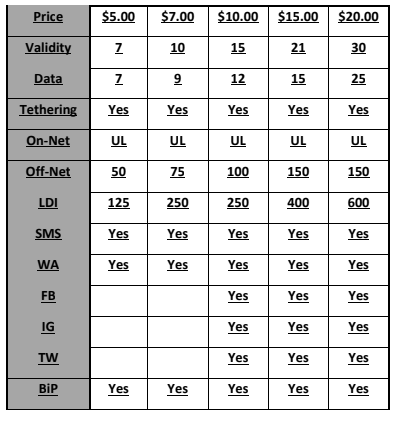 - These benefits applies to prepaid customers only
- Bundles don't have autho renovation
- Services can be verified on www.digicel.com.sv
- WhatsApp includes only WhatsApp Chat, it doesn't include WhatsApp calls and video chat
- Social media (WhatsApp, Facebook, Instagram and Twitter) have a daily limit of 750 MB
- Benefits don't apply to other devices (Hotspot mode)
Términos y Condiciones (Spanish version):
- Oferta de beneficios válida hasta el 31 de diciembre de 2021.
- Aplica únicamente para clientes prepago.
- Precios incluyen IVA y CESC.
- Paquetes no cuentan con renovación automática y están sujetos a las Políticas de Correcto Uso de los Servicios que se pueden verificar en www.digicel.com.sv
- El beneficio de WhatsApp incluye únicamente WhatsApp Chat y no incluye el uso de llamadas y video llamadas.
- Las redes sociales (WhatsApp, Facebook, Instagram y Twitter) tienen un límite de uso de 750MB diarios.
- Los íconos de Facebook, Instagram, WhatsApp y Twitter son propiedad de Facebook Inc. y Twitter Inc.